Kym Barrett – University of New England Alumni Profile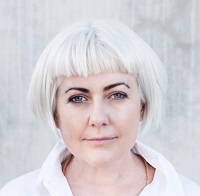 Her name may not be familiar, but her work is unforgettable. Take Keanu Reeves' distinctive long coat and sinister eyewear in The Matrix series, Aquaman's figure-hugging metallic suit or the ethereal beauty of winged Clare Danes in Baz Luhrmann's groundbreaking Romeo + Juliet.
Acclaimed costume designer Kym Barrett has a list of credits to rival any big-name Hollywood actor, spanning film, television and theatre. Los Angeles has been her home for 28 years now, but the diminutive creative is holed up in Sydney during the coronavirus lockdown, waiting for filming to resume on the Marvel superhero movie Shang-Chi and the Legend of the Ten Rings, when asked to reflect on where it all began.
"I originally enrolled to study science at UNE – my father is a geologist – but many of my friends at Earle Page College were doing arts and working at the radio station and performing plays, and that took me into a Bachelor of Arts instead," Kym says. "It was amazing, and the UNE Theatre Department still holds a very special place in my heart. It was such a revolution for me, the freedom to try everything. I soon realised that acting was not my thing, and mostly designed and made sets for different shows."
Moving to Sydney after graduation, Kym successfully applied to study design at the National Institute of Dramatic Arts (NIDA), where she befriended fellow designer and film producer Catherine Martin and Catherine's partner Baz Luhrmann. Kym worked in theatre for eight years post-NIDA, most notably for the Sydney Theatre Company and Belvoir Street, before Baz invited her to become the wardrobe assistant on his debut feature film Strictly Ballroom. Four years later, he enlisted her again, as costume designer on his novel adaptation of Romeo + Juliet.
We were all young and learning our jobs; we were all on the cusp of something great, and the energy on the set was amazing
And the rest, as they say, is history.
Read the rest of the article here.