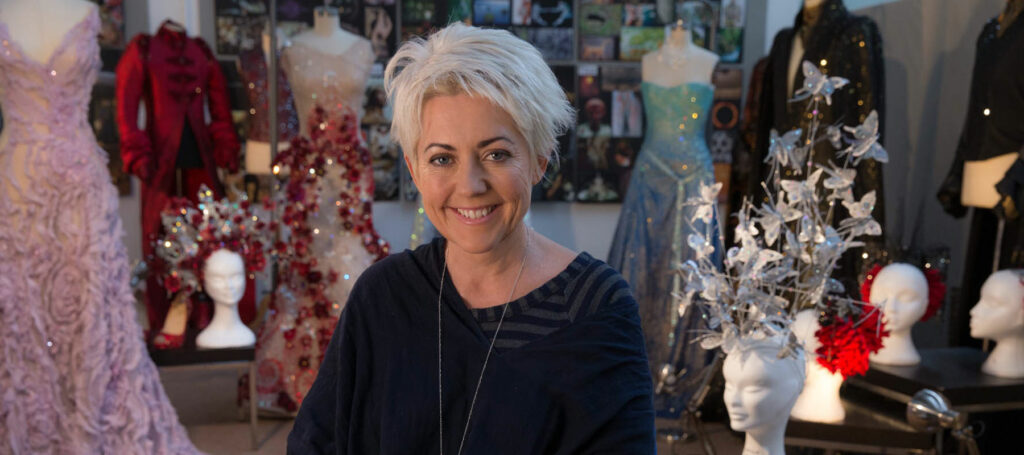 Kym Barrett is an Australian costume designer who works in film, theatre, and
opera.
After receiving a BA from UNE, Kym studied at the National Institute of
Dramatic Arts (NIDA). She worked for the Sydney Theater Company and Belvoir
Street for eight years post-graduation before receiving an invitation from fellow
alumni Baz Luhrmann to work as a costumes assistant on his debut feature,
Strictly Ballroom (1992).
Film
Four years after working on Strictly Ballroom, Baz invited Kym to design her
first film costumes in 1996 for the romance Romeo + Juliet. Two years later,
Kym worked on David O. Russell's war movie Three Kings (George Clooney,
Mark Wahlberg and Ice Cube). She created the revolutionary outfits for The
Matrix (1999) that same year, and continued to work with the Wachowskis on the Matrix sequels and many of their other films, like Final Flight of the Osiris, Speed Racer, Cloud Atlas and Jupiter Ascending.
Kym also developed the costumes for several horror thrillers, such as the Hughes Brother's movie From Hell (2001, Johnny Depp, Heather Graham), Gothika (2003, Halle Berry, Robert Downey Jr., Penelope Cruz) and Jordan Peele's picture, US (2018, Elisabeth Moss, Lupita Nyong'o ).
Her other works include Zero Effect (Bill Pullman, Ben Stiller), the animated
picture Titan A.E. (Matt Damon, Drew Barrymore), fantasy movie Eragon, Seth
Rogan's comedy The Green Hornet, Colombia Picture's hero movie The
Amazing Spiderman (Andrew Garfield, Emma Stone), 70's action-comedy The
Nice Guys (Russell Crowe, Ryan Gosling), thriller The Shallows, DC's Aquaman
(Jason Momoa, Amber Heard, Nicole Kidman, Willem Dafoe), Sony's production
of Charlie's Angels (Kristen Stewart, Naomi Scott, Elizabeth Banks), the Marvel
superhero film Shang-Chi and the Legend of the Ten Rings (Simu Liu,
Awkwafina, Tony Leung Chiu-wai, Meng'er Zhang), George Miller's 3000 Years
of Longing (Idris Elba, Tilda Swinton), and Sony's newest musical directed by
Speck Gordon, Lyle, Lyle Crocodile (Javier Bardem, Constance Wu).
She is currently working on an untitled production, which is still in its
earliest prep phase.
Theatre + Opera
Her theatre work includes costumes for Cirque du Soleil projects Totem (directed by Robert Lepage) and Toruk – the First Flight (2016), The Metropolitan Opera productions of The Tempest (2012) and The Magic Flute (2019, New Years Eve Premiere), and the pre-production of The Three-Body Problem in Shanghai and New York.
COSTUME DESIGN:
1996— Romeo + Juliet
1998— Zero Effect
1999— The Matrix
1999— Three Kings
2000— Titan A.E.
2000— Red Planet
2001— From Hell
2003— Final Flight of the Osiris
2003— Enter the Matrix (Video Game)
2003— The Matrix Revolutions
2003— Gothika
2005— Golden Eye: Rogue Agent
2005— Monster-In-Law
2005— Rumor has it…
2006— The Virgin of Juarez
2006— Eragon
2008— The Children of Huang Shi
2008— Speed Racer
2011— The Green Hornet
2012— The Amazing Spider-Man
2012— Cloud Atlas
2012— Met Opera: The Tempest
2014— Jane the Virgin (Pilot)
2015— Jupiter Ascending
2016— The Nice Guys
2016— The Shallows
2016— Toruk: The First Flight
2016— Modern House (Short)
2017— Will (TV Pilot)
2017— American Made
2018— Aquaman
2019— US
2019— Charlie's Angels
2019— Met Opera: The Magic Flute
20??— The Three-Body Problem
2021— Shang-Chi and the Legend of the Ten Rings
2022— Lyle, Lyle Crocodile
2022— Three Thousand Years of Longing
Read more about Kym Barrett here.
Download Kym Barrett's CV here.
View Kym Barrett's IMDB here.
ROMEO + JULIET 20 YEARS LATER
"Kym came in with a Japanese print Hawaiian shirt she'd found in an op shop. Soon we were developing our own Hawaiian prints with all sorts of Montague signs and references in the fabric itself and it became a sort of mise en abyme of Shakespearean "Hawaiian shirts within Hawaiian shirts," but Kym, with CM's support, did a brilliant job at this."